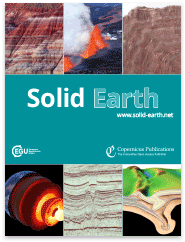 Executive editors: CharLotte Krawczyk (chief executive editor), Susanne Buiter, Joachim Gottsmann, Federico Rossetti & Arjen Stroeven
Solid Earth (SE) is a not-for-profit journal that publishes multidisciplinary research on the composition, structure, and dynamics of the Earth from the surface to the deep interior at all spatial and temporal scales.
News
29 Oct 2020
Institutional agreement with ETH Zurich now for corresponding authors
As of 1 November 2020 the direct settlement of article processing charges (APCs) between the ETH Zurich and Copernicus Publications will be valid for corresponding authors.


14 Oct 2020
Volunteer to be an EGUsphere preprint moderator!
EGU is seeking scientists who want to gain experience in the realm of scientific publishing to pre-screen manuscripts submitted to the Union's new online platform.


30 Jun 2020
Update of journal metrics
The journal metrics were updated and the current numbers are available from the metrics box on the left-hand side.